"THE CREATION OF A SYMBOLIC PAINTING"
2022
A series of paintings and a documentary.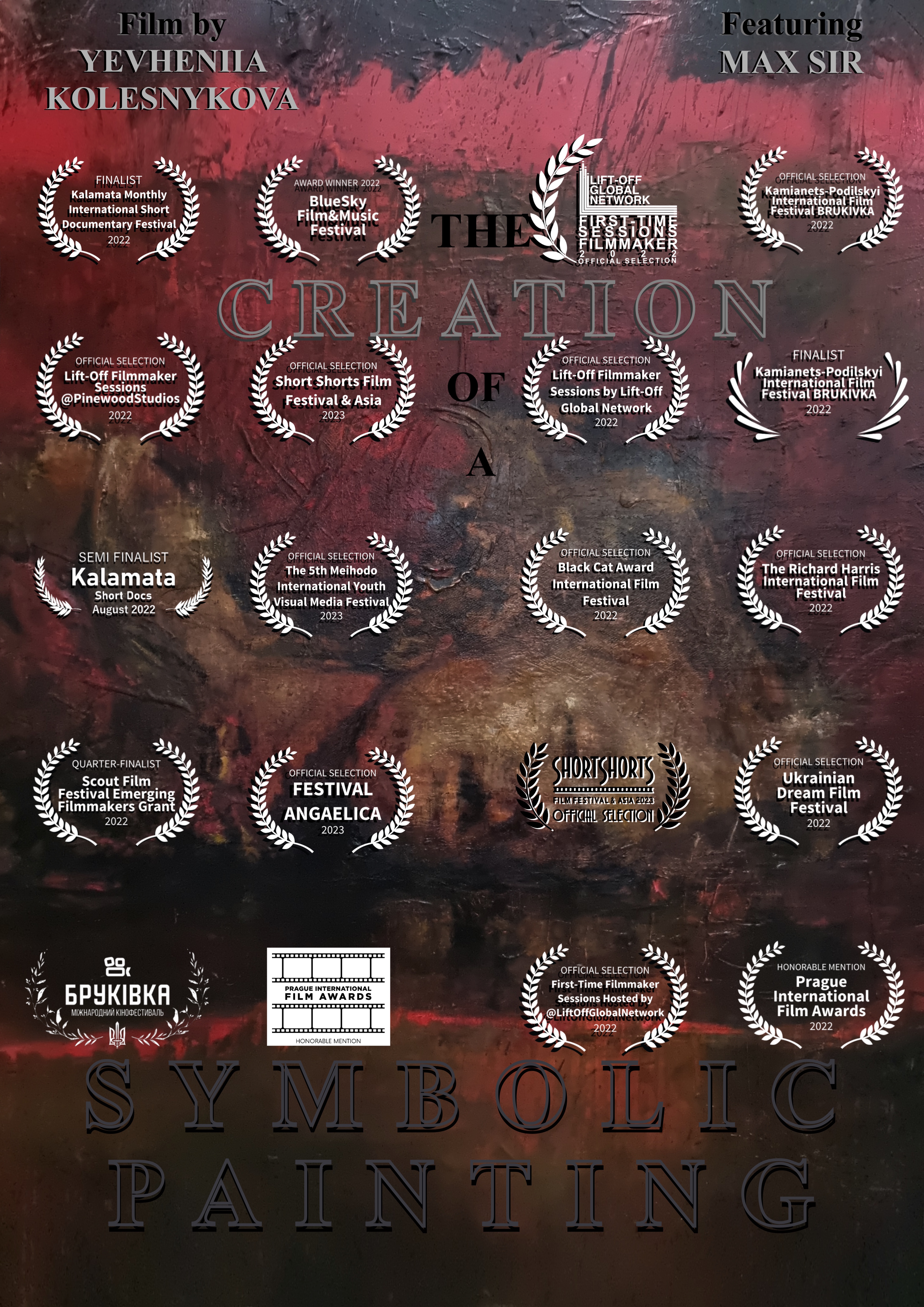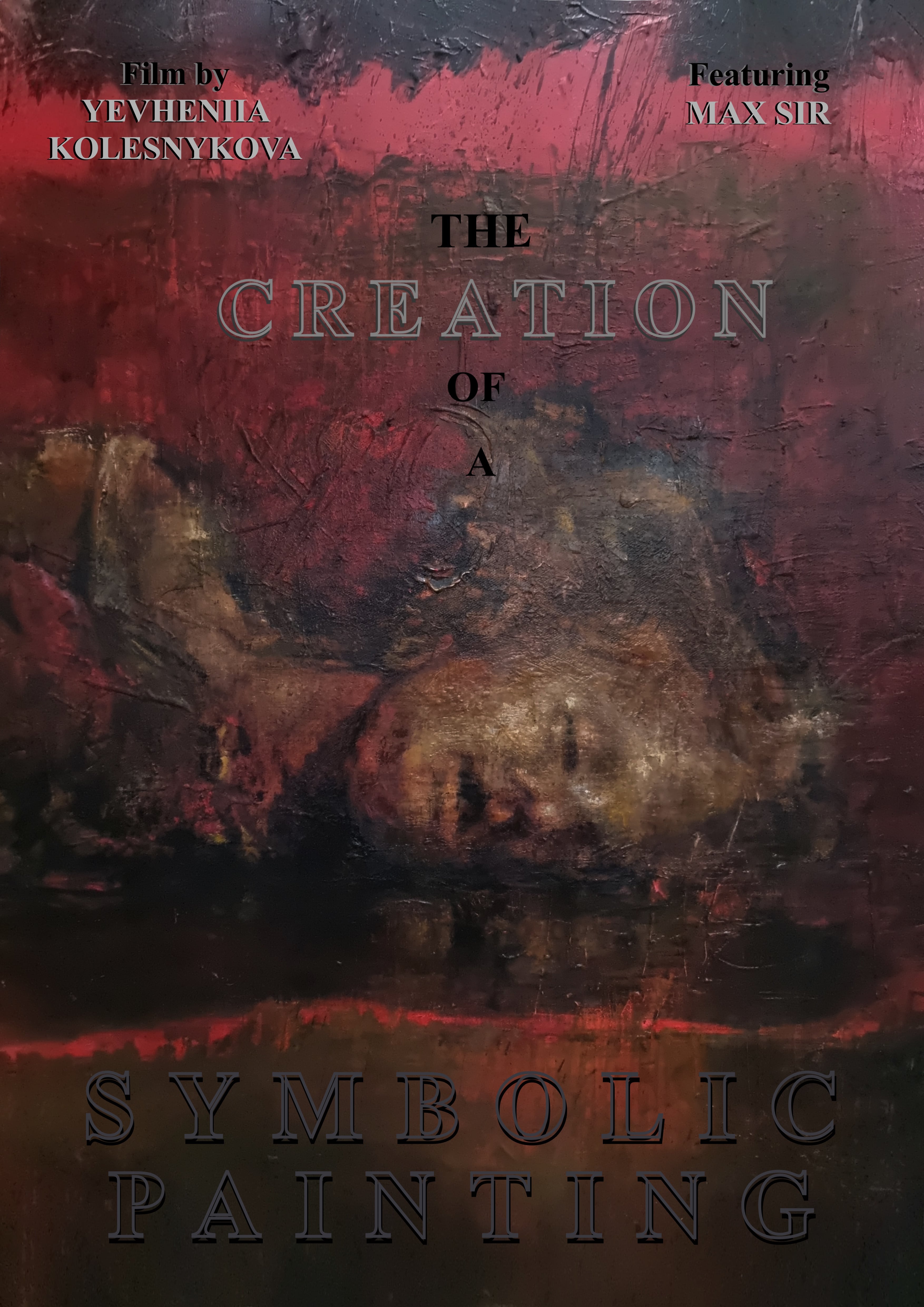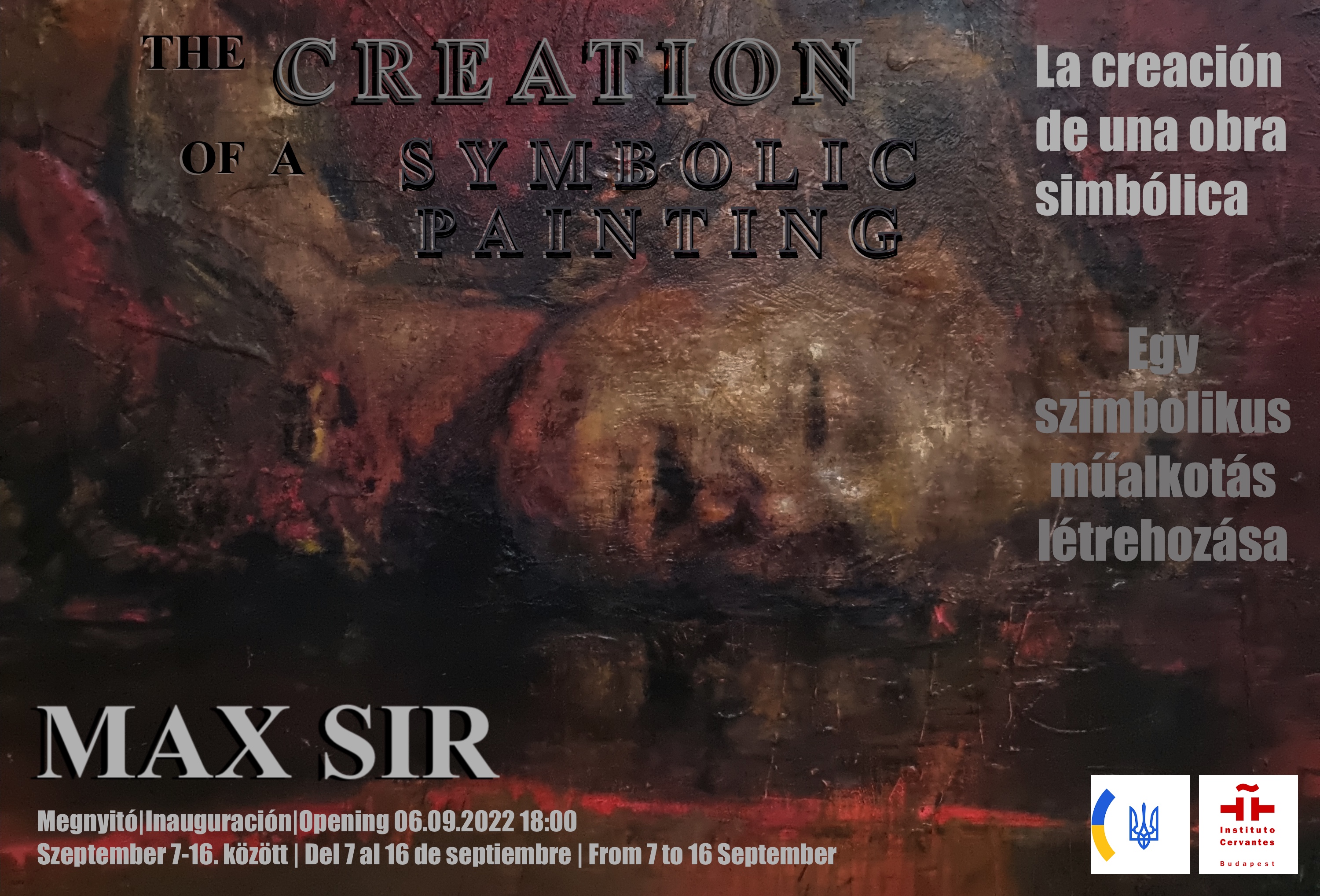 Official Trailer
"LOOKING FOR THE MIRROR"
2022
A series of paintings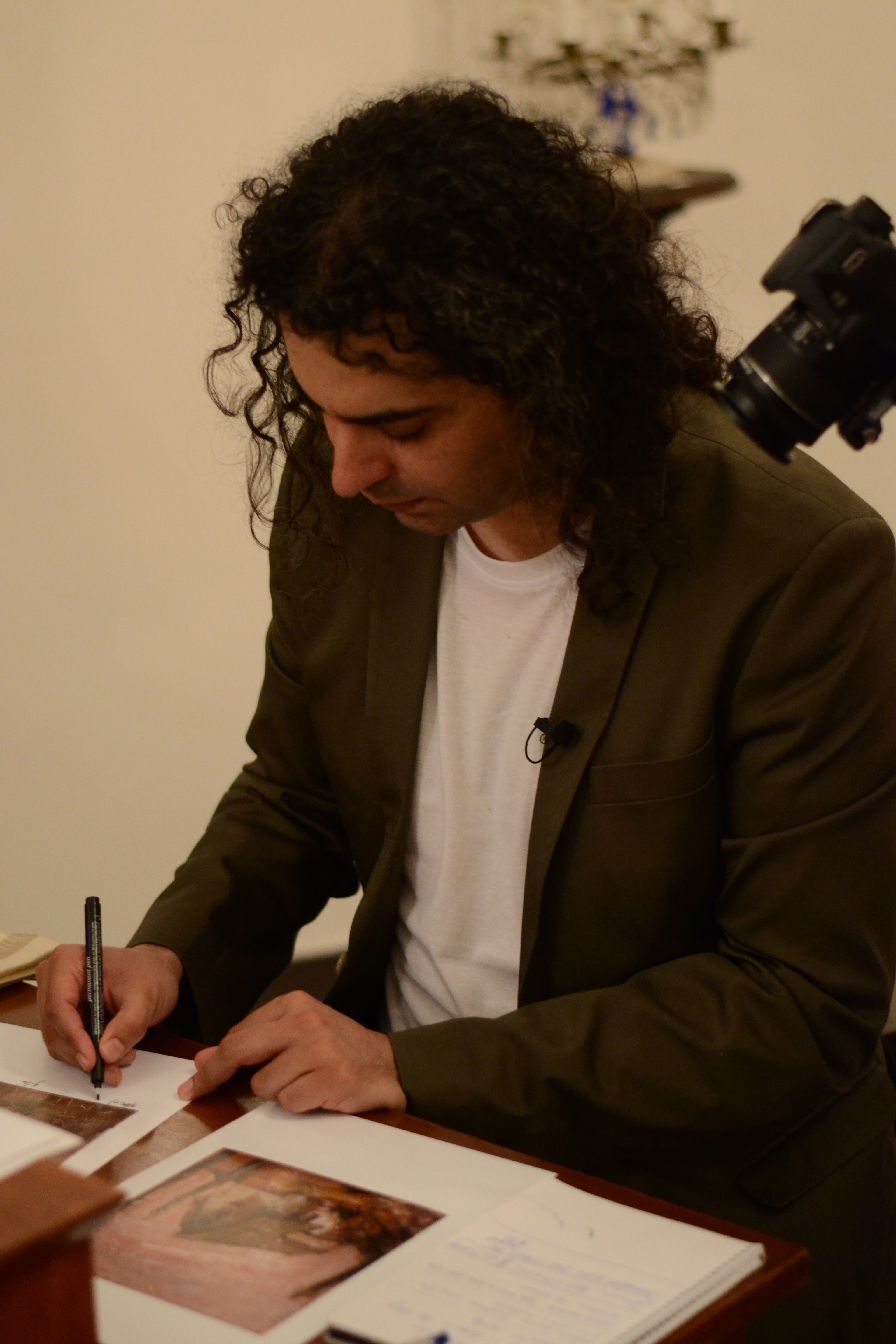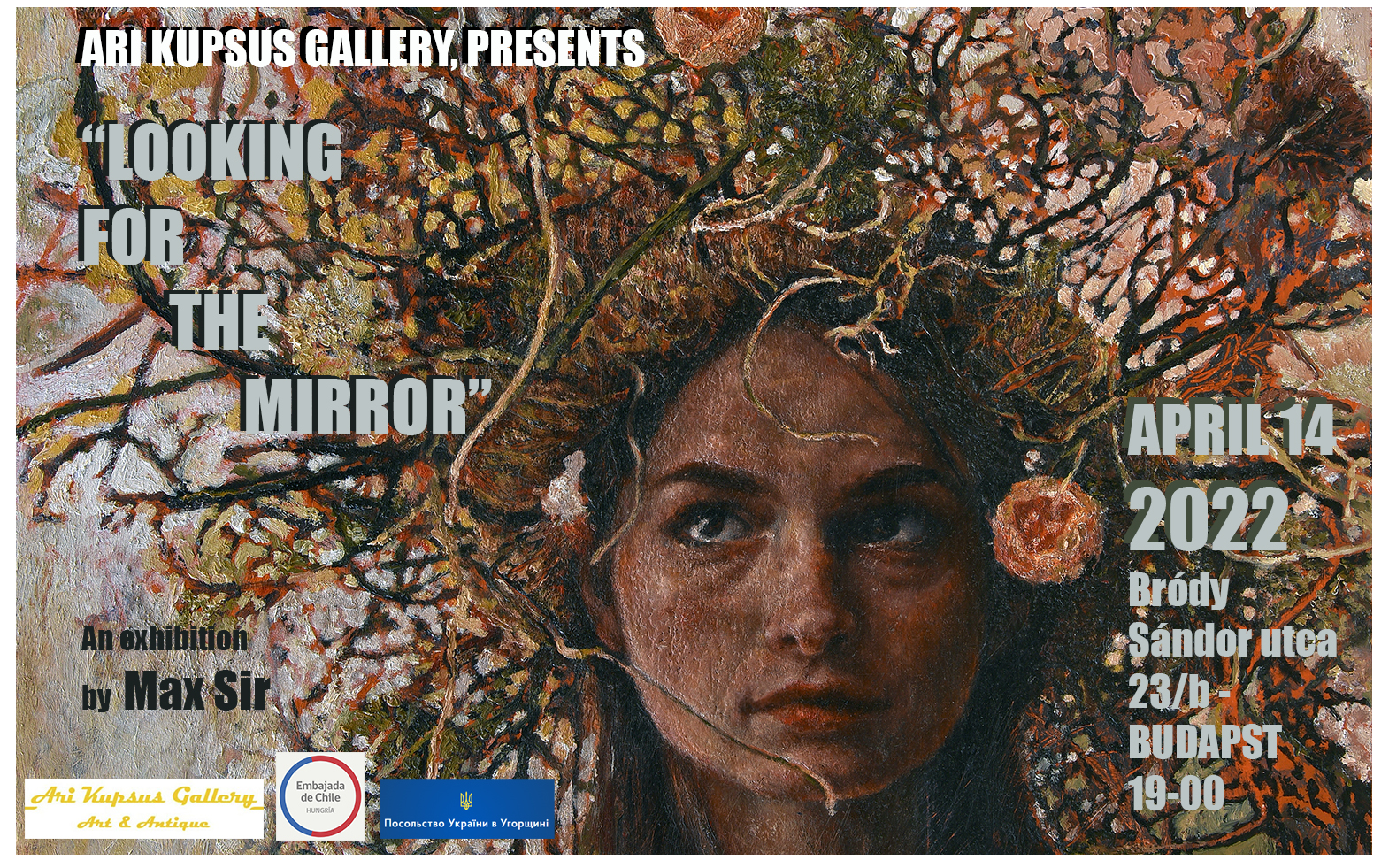 UA CULT
2019-2020
Series of draws and paintings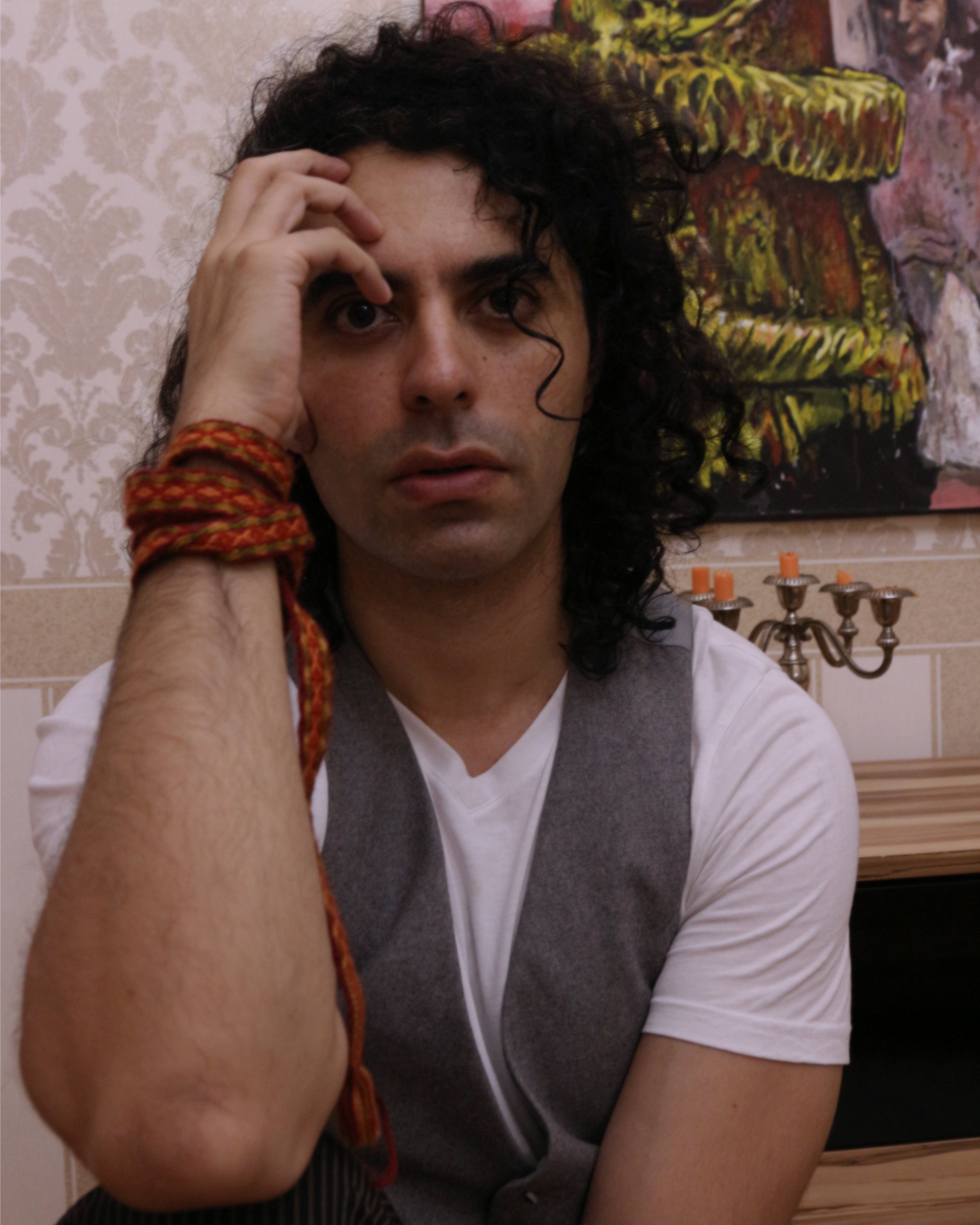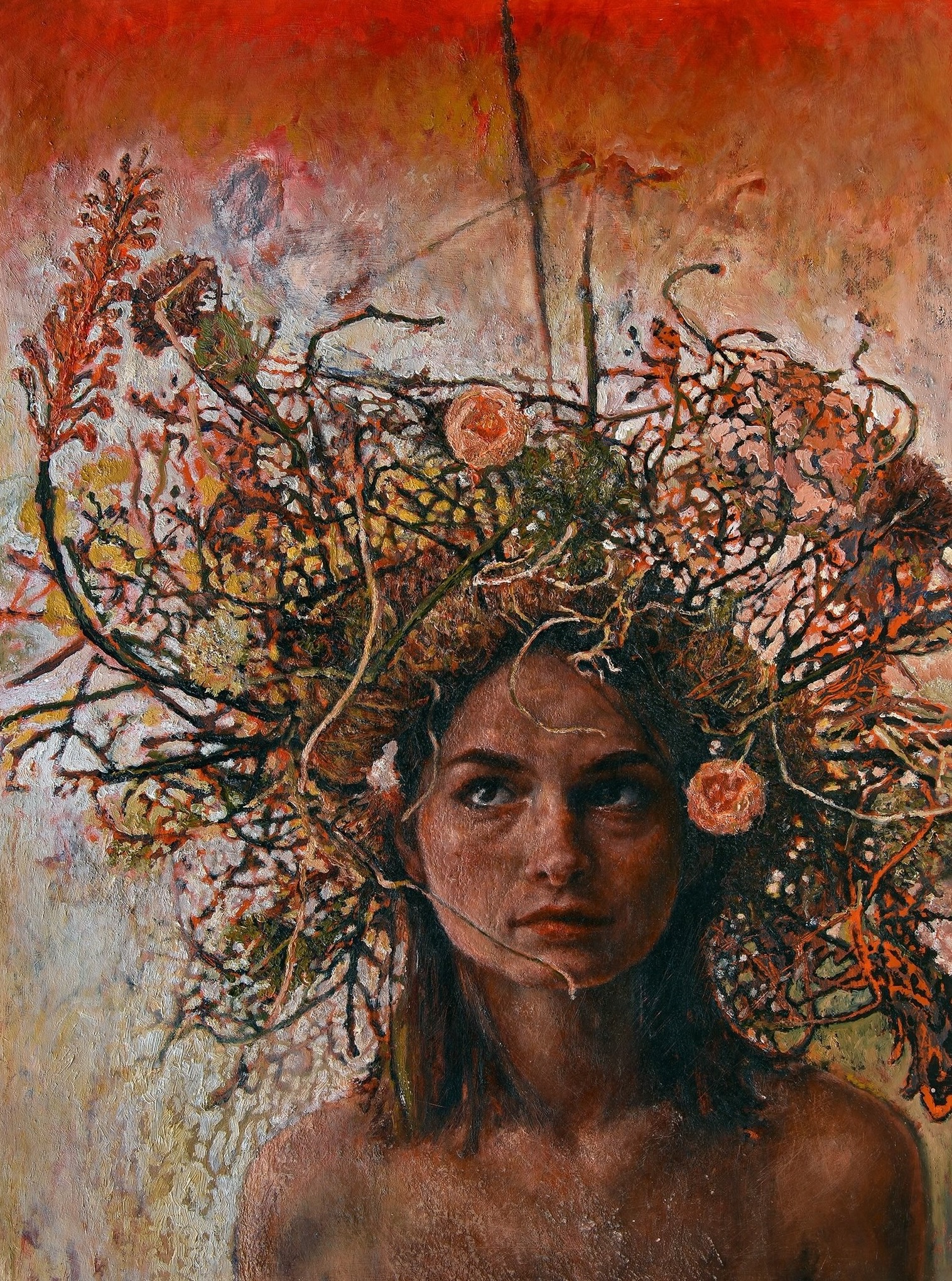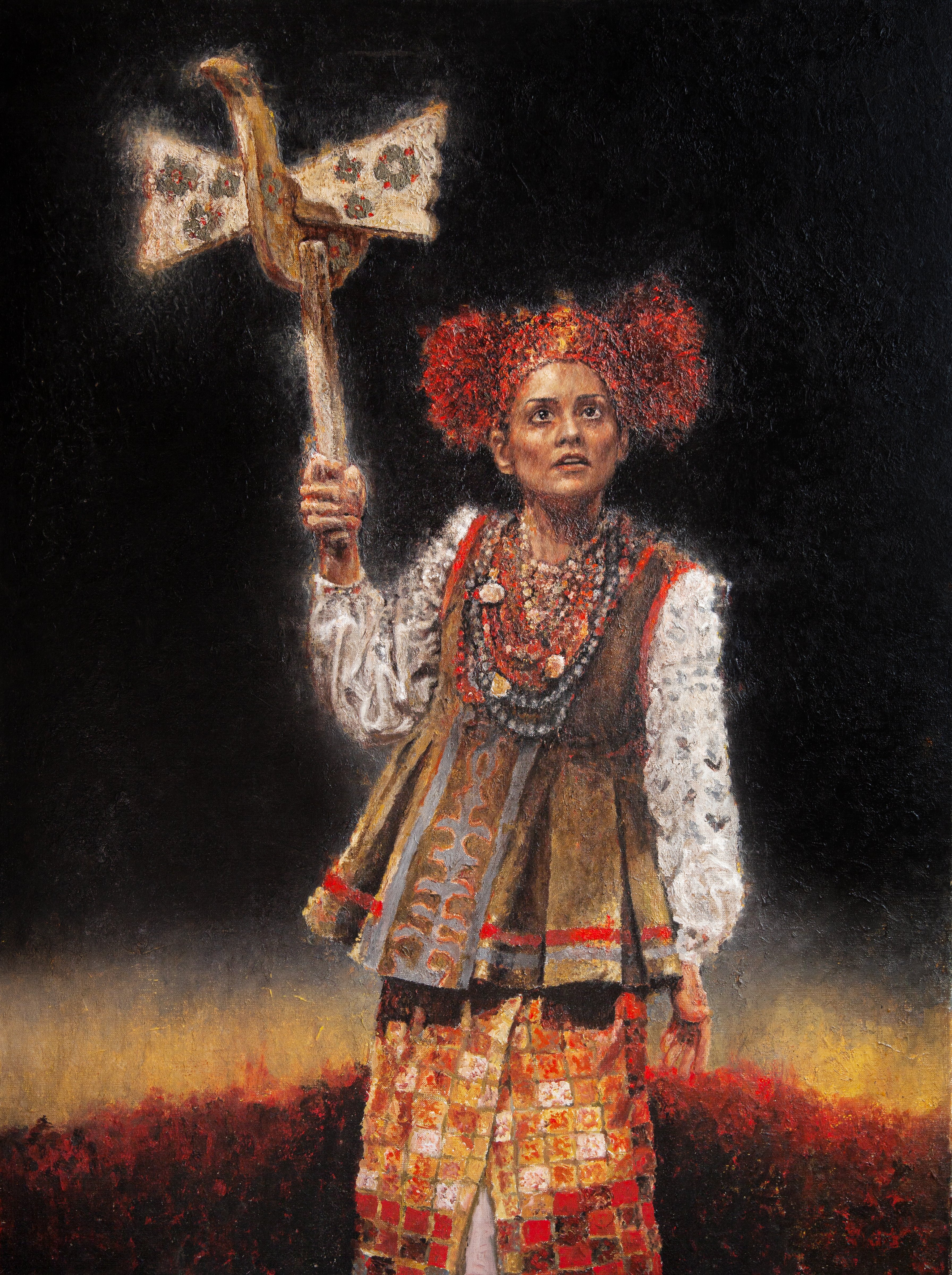 HAMLET 2018-2019
Theatre play, Graphic novel, Sketchbook. 2018-19
HAMLET, Graphic Novel
120 pag. Hard cover
Published by UAComix, Ukraine
in Ukrainian language
May, 2019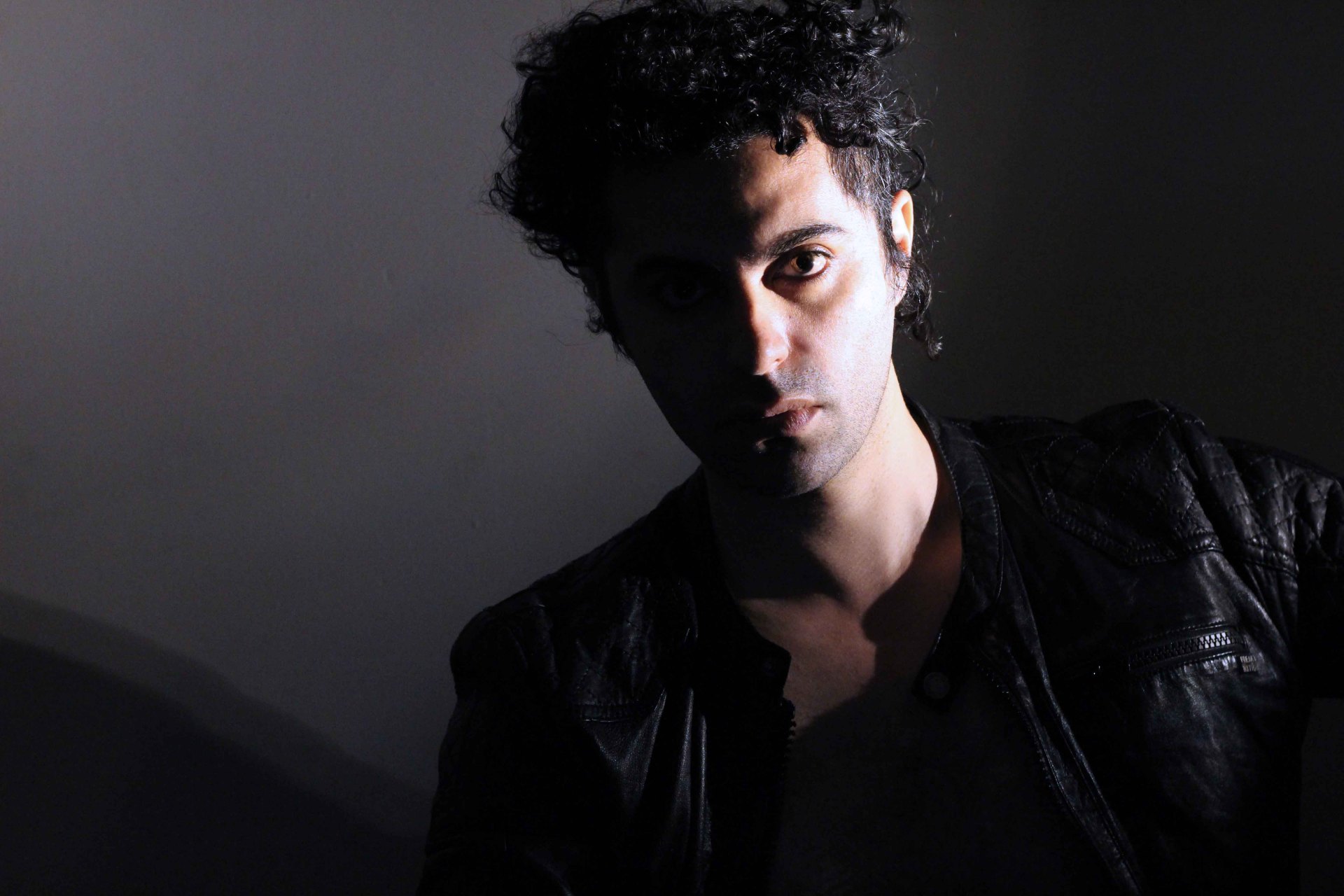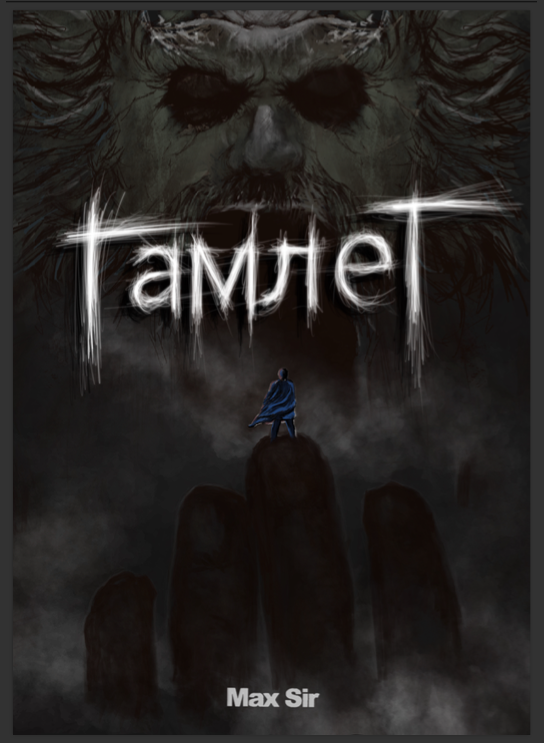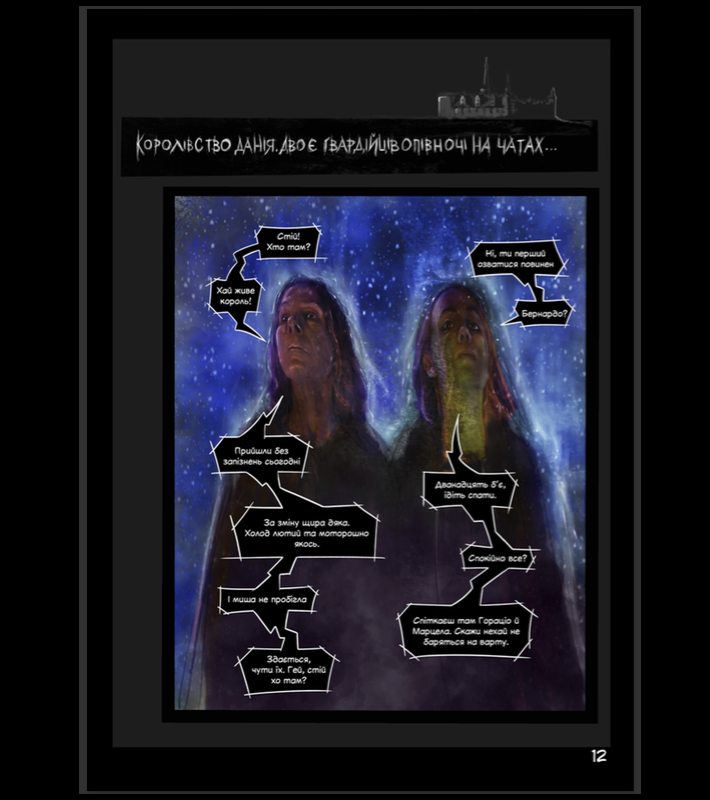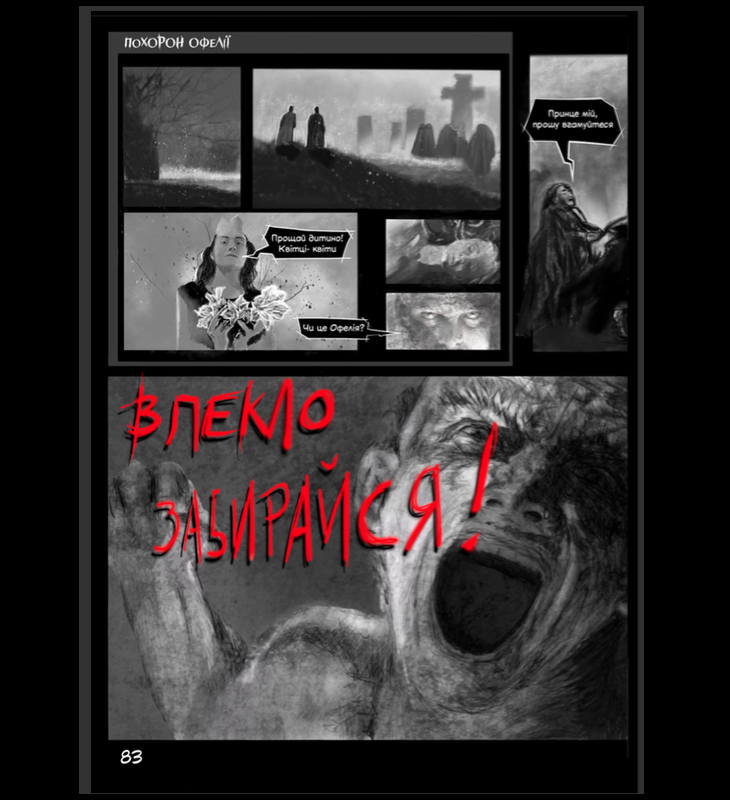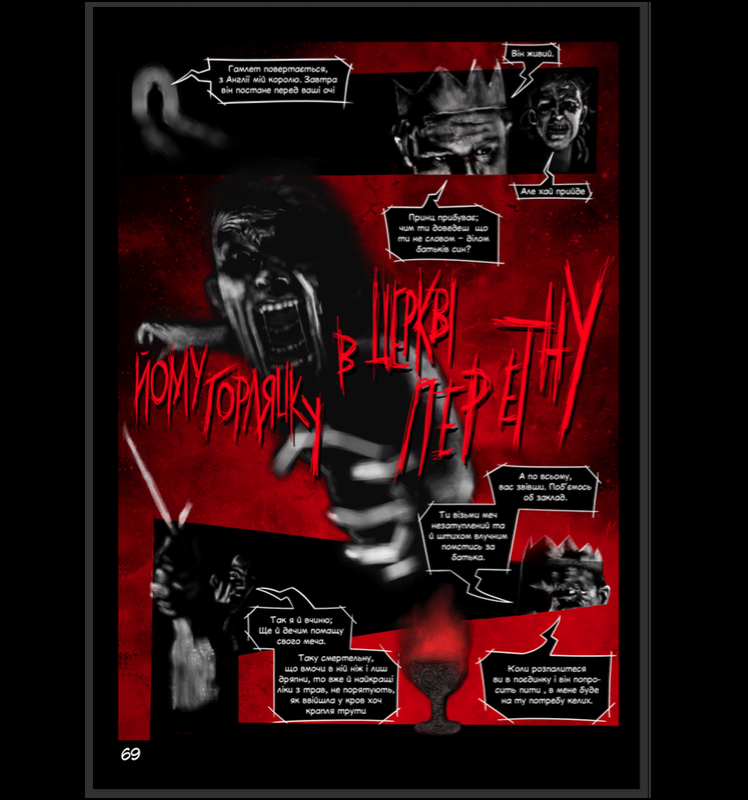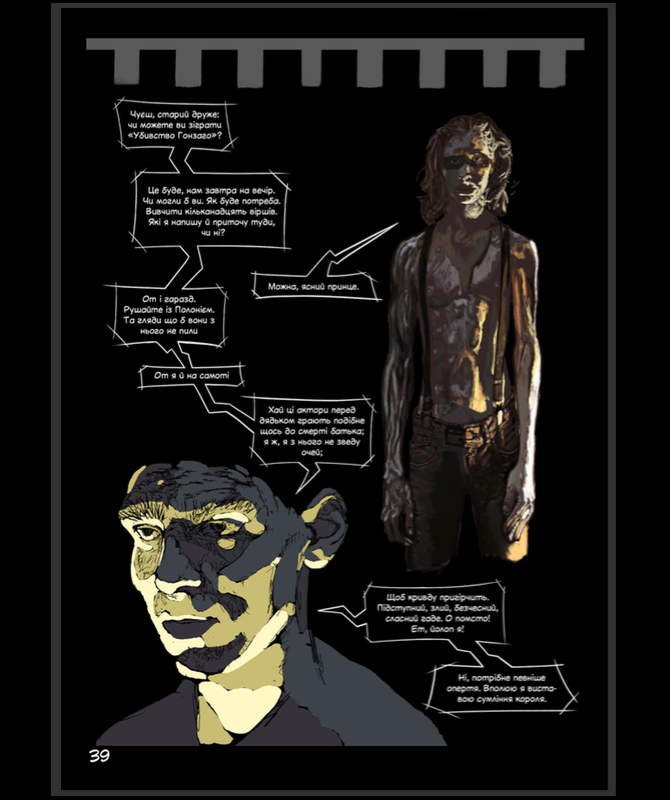 HAMLET, Sketchbook
Drawings and sketches for the Graphic Novel HAMLET.
Published by UAComix, Ukraine
September 2018. Ukraine
Presented at Comic Con Ukraine (Kiev, 2018) and 25th Book Forum Lviv (Lviv, 2018)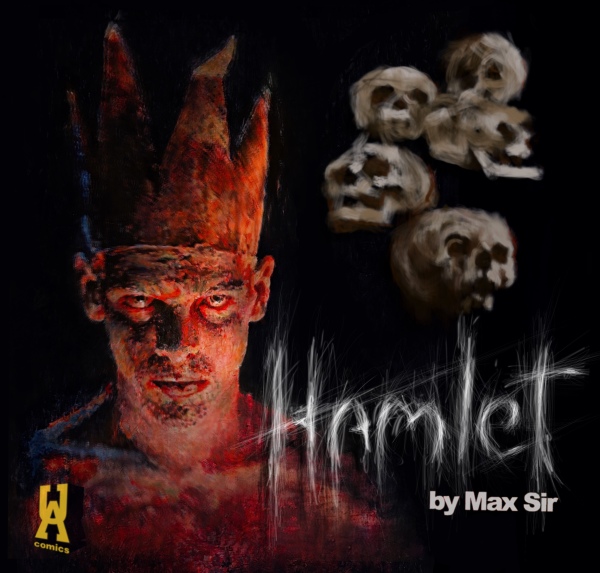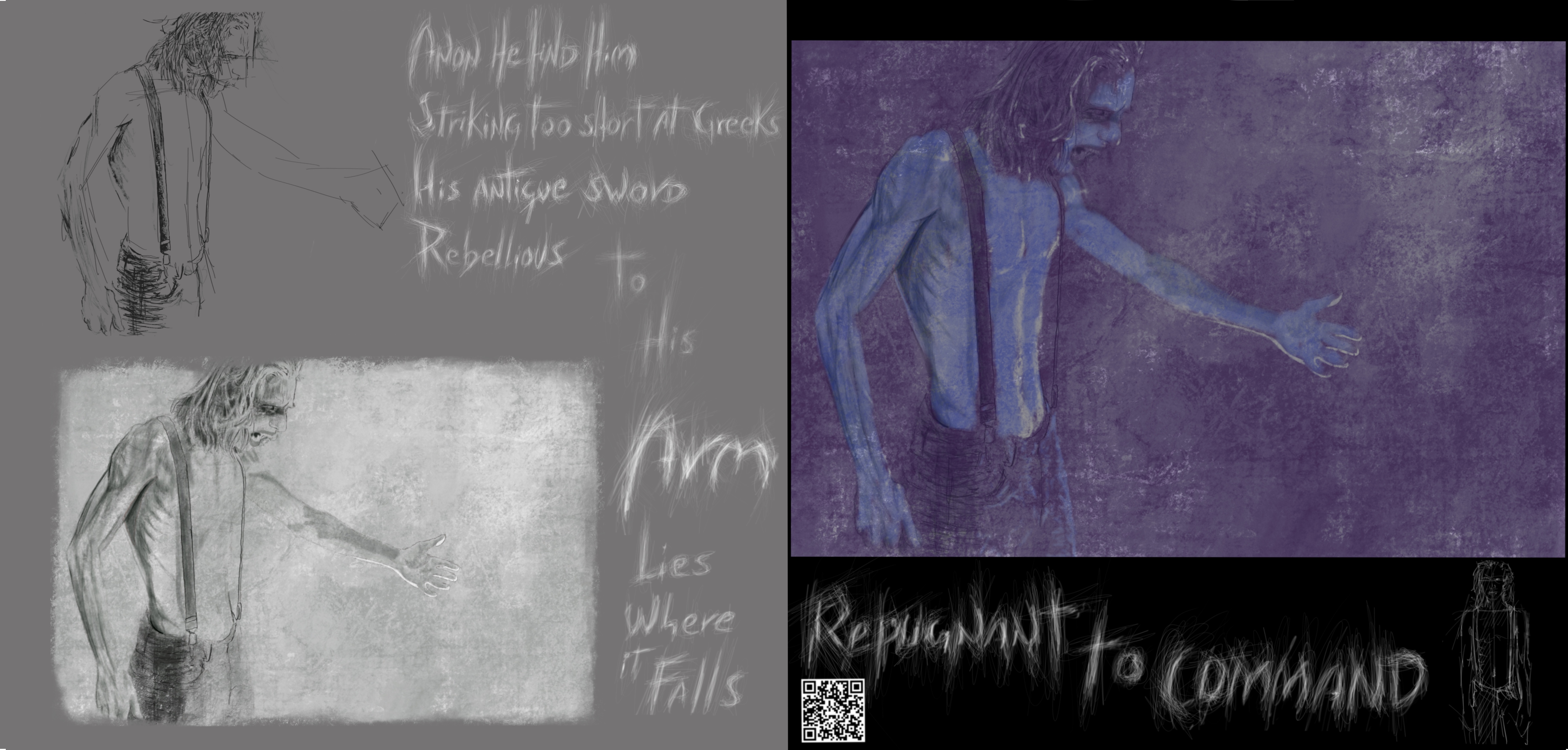 HAMLET, Theatre Play
DIRECTED by Max Sir and Natalia Miranda Guzmán
DESIGN and CONCEPT by Max Sir
TEXT adapted from the original by William Shakespeare
HAMLET, by Max Sir, was developed and premiered in Ukraine, in Ukrainian language, at International Theatre Festival Kit Gavatovycha, August-September 2018, in the city of Lviv.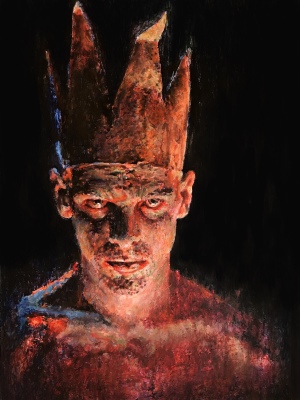 MAX SIR, "Hamlet"
50x70 cm / 19.7x27.6 in
Acrylic on board, 2018
For the theatrical production of ©HAMLET by Max Sir.
PRESS for the premiere of HAMLET by Max Sir, Ukraine 2018
ALICE
2016-2017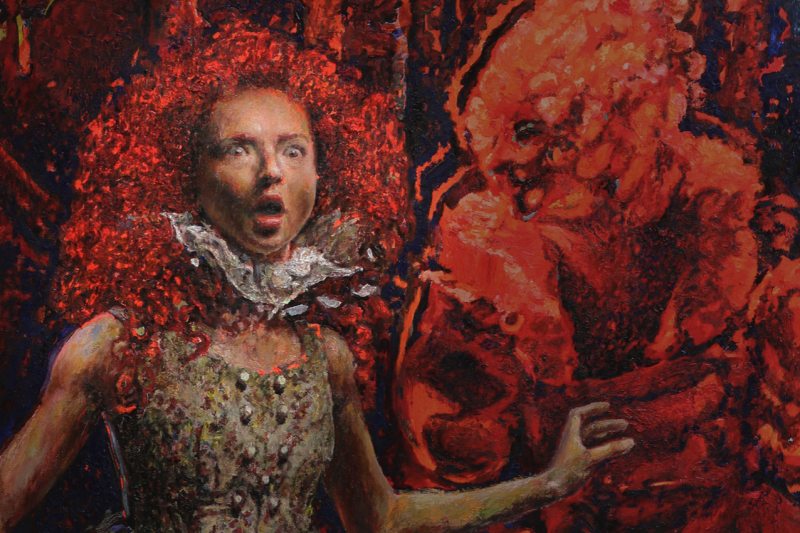 ALICE
series of paintings by Max Sir
Inspired by the imagery and concept of
Alice's adventures in Wonderland, this series
is currently a work-in-progress in Europe.
Exhibitions of the collection:
BERLIN / May 2017
PRAGUE / June 2017
ATHENS / June 2017
PARIS / July 2017
PRAGUE / August 2017
BERLIN / February, March 2018
PARIS / May 2018
LONDON / July 2018
Impressions on the exhibition
Featured in this video exhibitions in:
Embassy of Chile in United Kingdom (London)
Salon International d'Art Contemporain, Carrousel du Louvre (Paris, France)
Latin Art Gallery (Prague, Czech Republic)
"A unique aspect of this new body of work is that every element in its pictorial language was previously conceived, designed, carried into the stage and brought into motion for a theatrical piece. The texture, the colors, the composition and every element in these paintings and sketches speak of decisions I previously made as a director/designer for the stage. These paintings are a living dialogue between the language of theatre and the language of painting, which interacts with what the viewers understand by reality."
- Max Sir
ALICE
play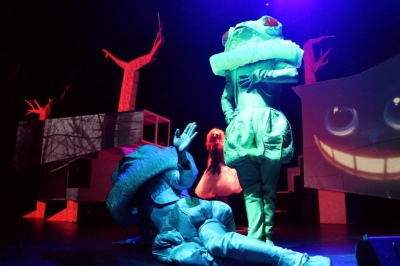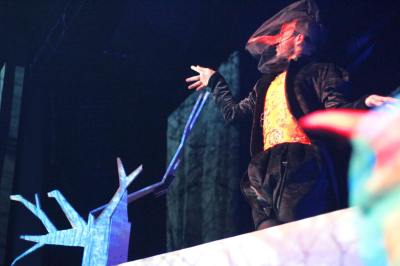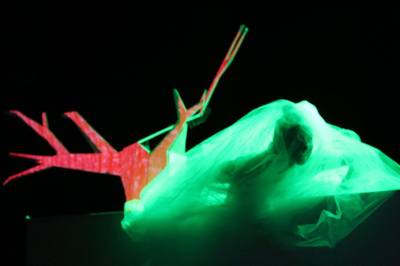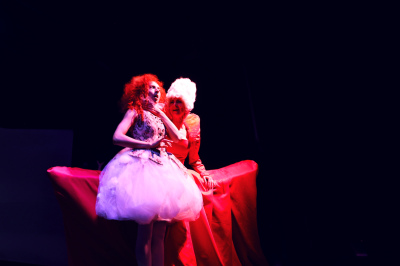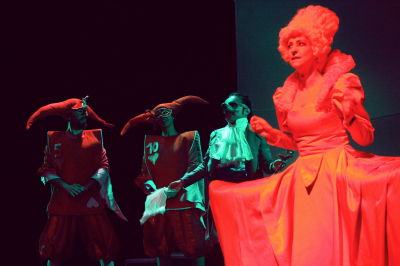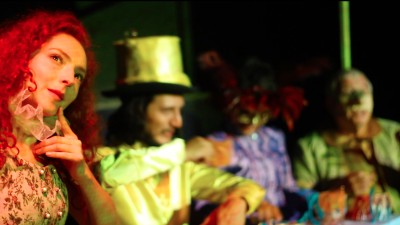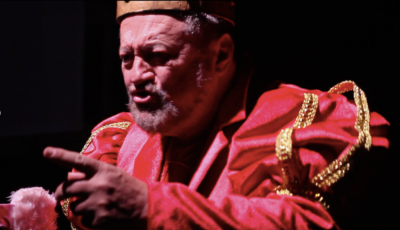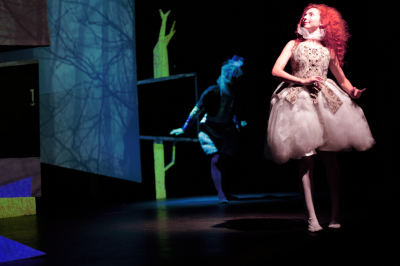 DIRECTED by Max Sir
ALICIA had its world premiere at Teatro Espressivo (Costa Rica).
This first season took place from February the 3rd through March the 26th of 2017
ORIGINAL SCRIPT based on the novel by Lewis Carroll
"Alice's adventures in Wonderland", written by Natalia Miranda Guzman and Max Sir
PRODUCCIÓN EJECUTIVA - Steve Aronson
DIRECCIÓN - Max Sir
MÚSICA ORIGINAL - Fabrizio De Negri
DISEÑO DE ESCENOGRAFÍA - Max Sir
DISEÑO DE VESTUARIO - Max Sir
DISEÑO DE ILUMINACIÓN: Max Sir
DISEÑO DE AUDIO - Juan Pablo Calvo, Natalia Miranda
COREOGRAFÍAS - Fabio Pérez
ANIMACIONES - Abraham Soria
VIDEO - Mauricio Garrido, Max Sir
TÉCNICO DE LUCES Y MULTIMEDIA - Antonio Cordero
TÉCNICO DE SONIDO - Diego Peña
JEFE DE ESCENA - Manuel Martín
ASISTENCIA GENERAL - Melissa Vargas
PRODUCCIÓN - Mariana Ramírez- Gustavo Sanchez
UTILERÍA - Max Sir
REALIZACIÓN DE ESCENOGRAFÍA - Jorge Calderón Araya
REALIZACIÓN DE VESTUARIO - Glenda Silva
Photography: Max Sir. All rights reserved
© ALICIA, by Max Sir. All rights reserved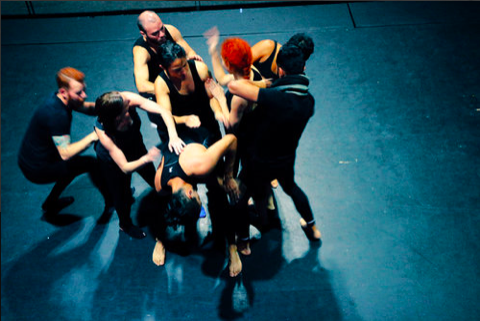 Training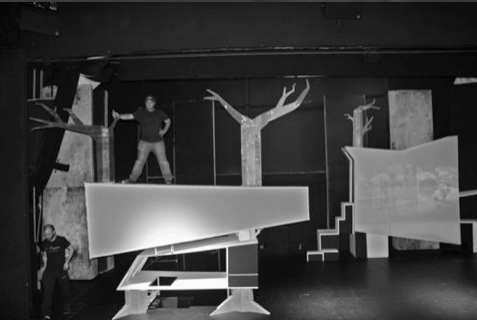 Set Design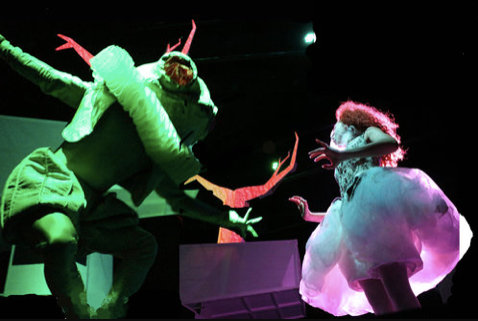 Lightning Design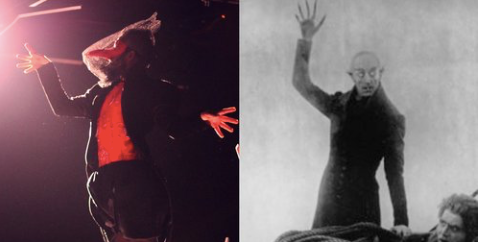 Character Development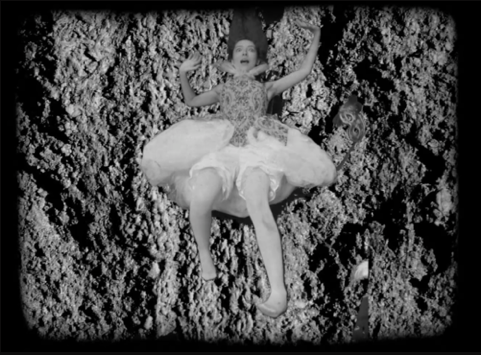 Video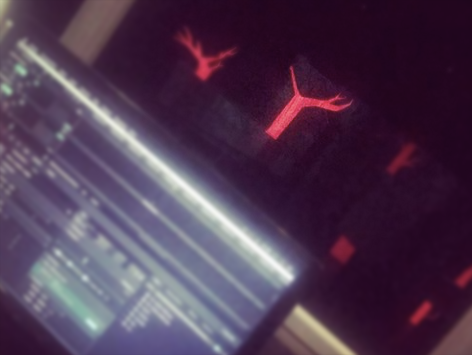 Mapping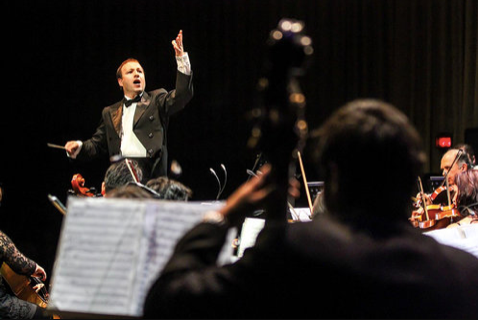 Original Score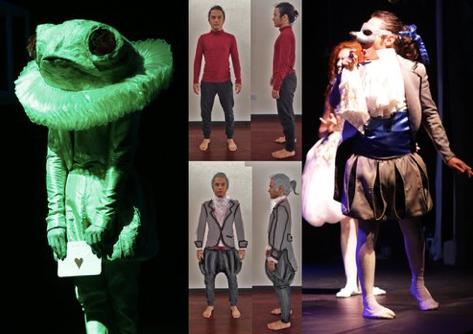 Costumes
PORTRAITS
Pencil on Paper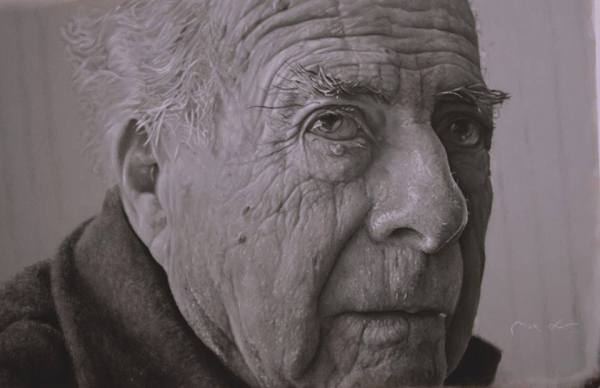 "Grandfather"
pencil on paper, 38x32 in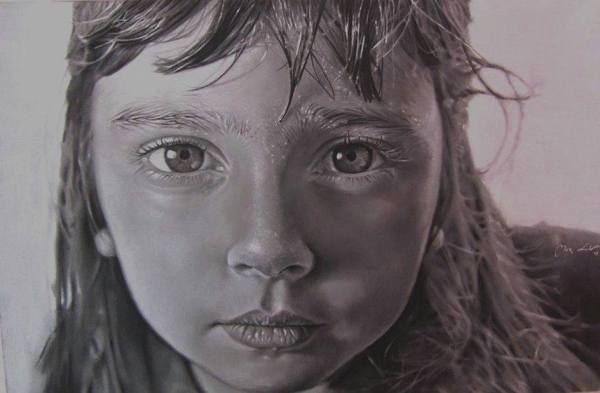 "Isabel"
pencil on paper, 38x32 in
The voices of Sor Juana Inés de la Cruz
Purely inspired by the spirit and drive of contemporary women, this exhibition springs from Sor Juana Ines de la Cruz PROJECT by Max Sir. In a playful and thoughtful gesture, this show takes each of the voices of the multifaceted intellectual Latin American Sor Juana to represent the spirit and dynamism of the contemporary woman. This series of paintings bring homage to the soul of a spirited, intelligent and powerful femininity of women as pillars of our society.
THE BOOK OF COMPLAINTS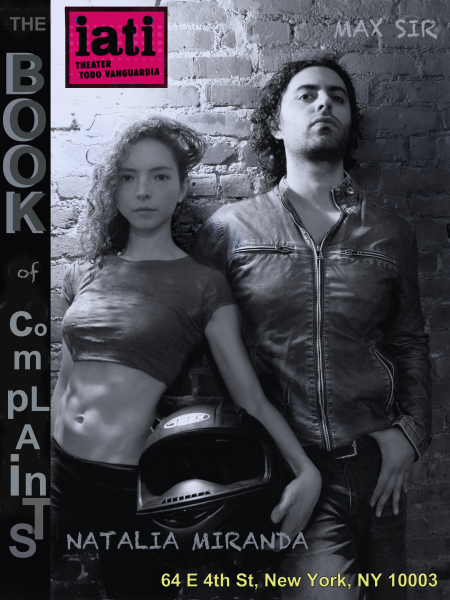 SYNOPSIS
At different space-time points, a woman and a man share moments geared by complaints. The Book of Complaints is a Theatre-of-the-Absurd play in six scenes; each scene is a "complaint" ("queja") of the author's discerns of a society that assigns roles and characters that become a programming tool for human behavior, and the impossibility that these people comprehend their situation. As a result, everyone complains that the assigned roles have nothing to do with their human conditions. Each scene portrays a different couple building a relationship in the context of their society, journeying through the Chilean history, their colloquialism and the curious evolution of their language.
This play was selected by IATI THEATRE to be part of its international program Cimientos, dedicated to produce new avant-garde theatre in New York City.
March 2016, Manhattan
http://www.iatitheater.org/programs/detail/quejas/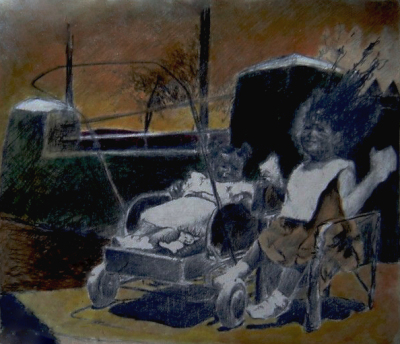 The Book of Complaints
40x50 cms
Mixed media on panel
Promotional poster by Max Sir. NYC
CAST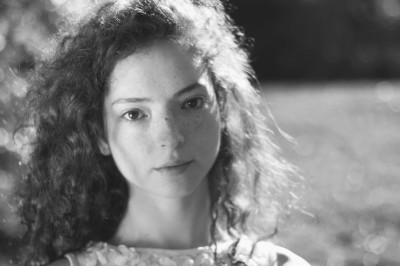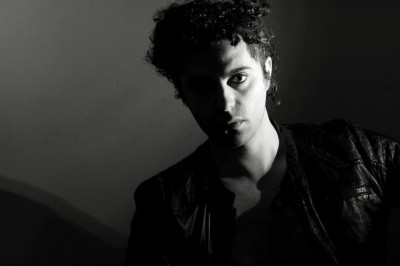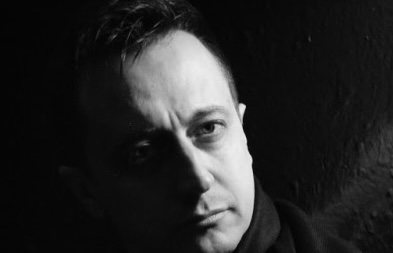 PLAYWRIGHT: Max Sir
DIRECTOR: Gerardo Gudiño
ACTORS: Natalia Miranda-Guzman
Max Sir
Acknowledgements:
IATI Theatre, Natalia Miranda, Gerardo Gudiño, Vivian Deangelo, Winston Estevez, Hayden Díaz, Rama Issa, David Dannenfelser, Juan Ramirez, Charo Casas, Adam Seidel, Joseph Krawczyk, Adrian manzano, Jan Mora, Rhett Martinez, Yani Perez, Alicia Ibanez, Revista Sangria.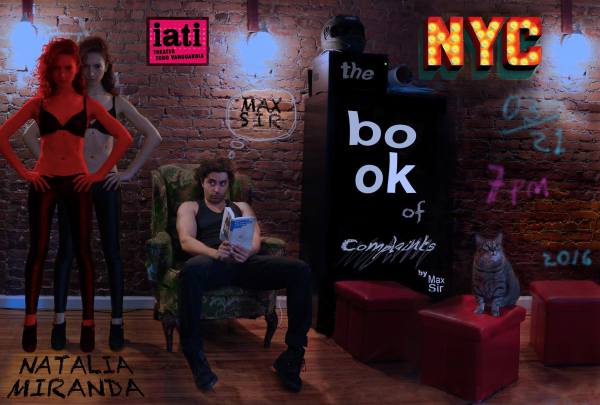 LO QUE KURT COBAIN SE LLEVÓ
play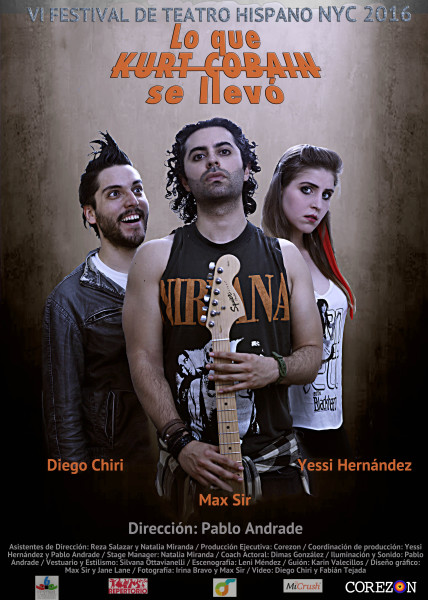 Figuras congeladas en trance
drawing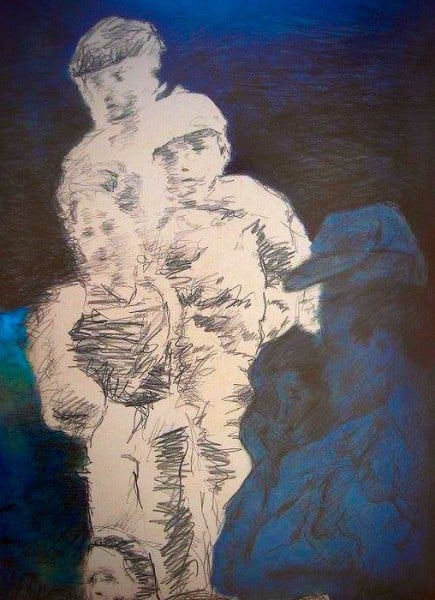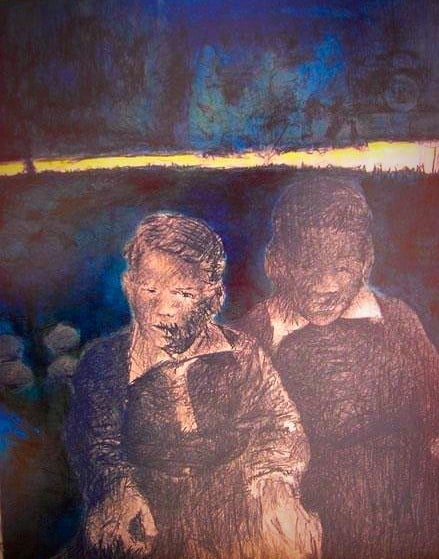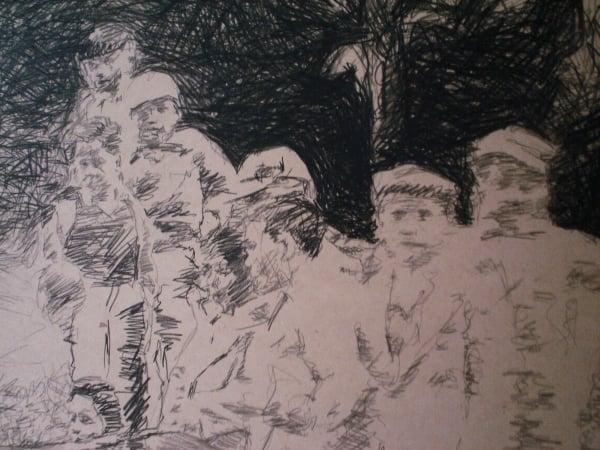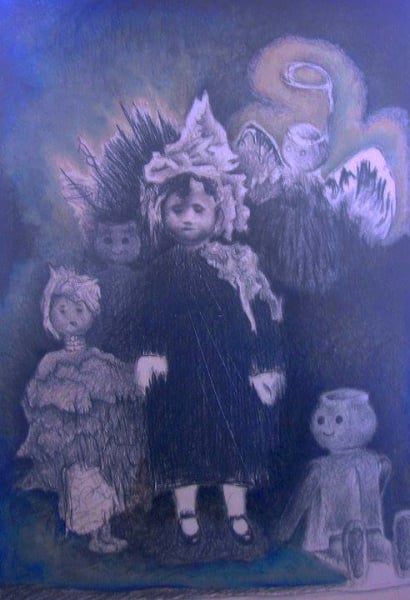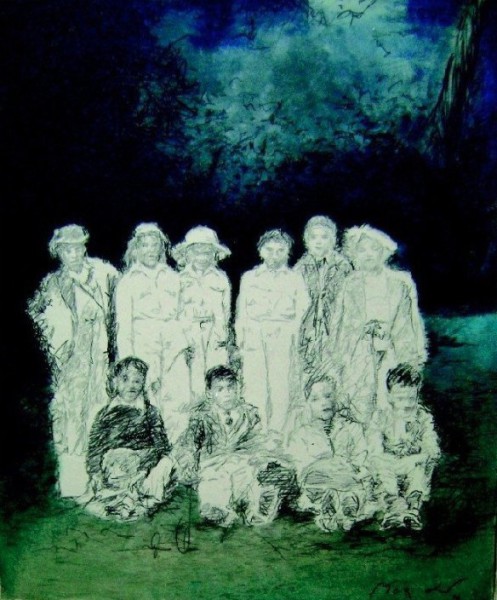 These drawings were created from black and
white photographs from early past century,
taken out of the old trunks that belonged to
my grandparents and close friends.
Photography freezes a moment that is
perpetuated; drawing recalls the photographic
take, producing a second glance, interpreting
its contexts and building them at the same time.
Constructions, interpretations and the reconstruction
of memories and images of a world that is no longer familiar,
only fragments of the identity of places that are more or
less neutral. That is the exercise.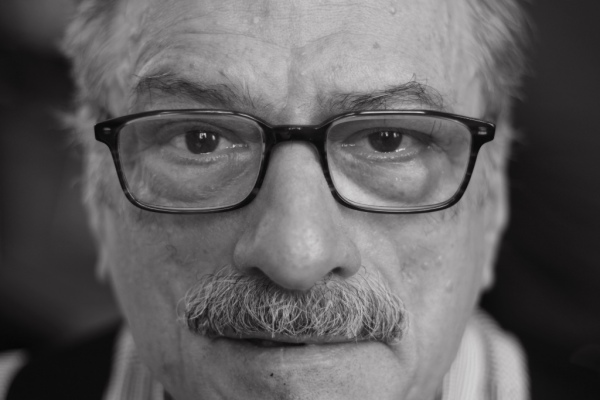 Founders of Latin American Theatre in NYC
This a project I developed during my stay in the States,
and it seeks to give recognition to the founders of Latin American Theatre in New York City. This project has been created together with actress Natalia Miranda-Guzman, and it consists of a photographic exhibition, a pocket book in English and Spanish and a publication of the full length interviews. In this project we seek to unveil the visual memory behind the faces of each of these great figures in the world of art, their experiences and their valuable inner world.​

A headshot is a photographic portrait that actors use as a marketing tool or self-branding material. Using this portrait as a media and the question of what is your first memory related to theatre as a starting point, we created this photobook of interviews about the founders of Latin American theatre in NYC.

Photography and Concept: Max Sir

Interviews: Natalia Miranda-Guzmán

Editing: Max Sir

​©2015-2018 Max Sir Art. All rights reserved
"No soy un "actor accidental", siempre quise ser un actor, estar en el
negocio de una forma u otra. Me recuerda cuando era niño y mi tía me dijo
que mi primo tocaría guitarra y estaría en la radio, en la que en ese
entonces era la National Public Radio; entonces recuerdo que moví el
mueble que estaba frente al radio y busqué a mi primo dentro del
altoparlante; no comprendía el concepto de cómo podía estar ahí, y yo
quería estar ahí. Ese es uno de mis primeros recuerdos queriendo estar en el teatro."
"Manny"
Manny Alfaro
Executive Director Hispanic Organization of Latin Actors, HOLA, New York
Acknowledgements:
The Clemente Soto Vélez Cultural and Educational Center (NYC)
Hispanic Organization of Latin Actors, HOLA (NYC)
Repertorio Español (NYC)
Teatro LATEA (NYC)
IATI Theatre (NYC)
GALA Theatre (Washingotn, DC)